Our Hereford Herd Sires are Line One Genetics only. Many knowledgeable Cattlemen feel these genetics produce the most predictable results, for the purchasers of them, in the breed (purebred and crossbred). They have been line bred for 90+ years (without undesirable traits occurring in the progeny).
Herd sires have been selected for yearling weights EPD's, under range conditions, during this time period. Non-producing cows are culled. They have a 54-day calving interval at the mother herd. My sale bulls weren't raised on a milk cow. They are not embryo calves, raised under artificial conditions. What you see is what you will get.
We also have a few Elite Brahman bulls and a few commercial Angus sired bulls (unregistered) available at most times.
Our Herd Sires, pictured below, are presented in pasture condition, as that is how our cattle are produced. We do some AI breeding to produce Potential Herd Sires for us (see MK L1 Advance 1943). We like to go out of herd for our sires, as even line-bred cattle can be bred too close. None of our Herd Sires are closely related to each other. We keep the AI heifers for the same reason. We feel very comfortable that our cattle will do a good job for you.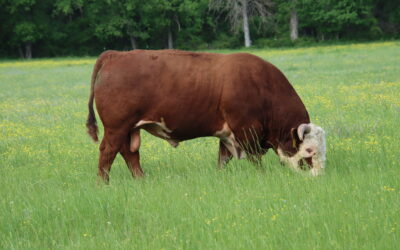 Project pageMK Bulls CommercialJA L1 DOMINO 7207E AHA #43798692 A son of HH ADVANCE 4082B, out of a CL 1 DOMINO 555R. Proven herd sire obtained from Jamison Herefords of Kansas. Red to the ground. 100% eye pigment, low birth weight EPD's, extra pigment, perfect...